The peal is a divine music!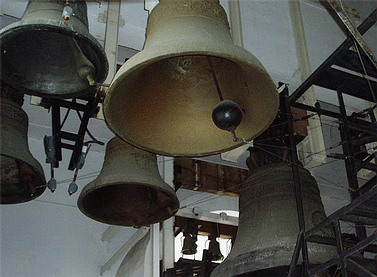 There are two kinds of the bell chime: ringing of church bells (the parishioners are called for the worship by it) and the peal as it is.
Ringing of church bells is measured strokes at one big bell. It realizes in the following way: first come three rare slow and long-drawn-out strokes, then measured strokes follow. Ringing of church bells can be divided into two kinds: common (private) that is realized by the biggest bell; and Lenten (occasional) that is realized by the least bell (according to its size) on the seventh days of the Lent.
The peal proper is the peal when all the bells ring at the same time. It is divided into three kinds:
Three-peal is the all bells' ringing that repeats three times after a small break (the ringing in three motions). It sounds at the night-service watch and liturgy;
Two-peal is the all bells' ringing twice (the ringing in two motions). It realizes at the night-service watch;
The ringing is the chime by turns (one or few strokes) every bell starting with the biggest up to the least repeated several times. It realizes at the liturgies and on the special occasions: during the Crucibow Week, at the Vespers of the Friday the Great before the Carrying out of the Shroud of Christ, at the matins of the Saturday the Great, on the day of the Exaltation of the Cross. The ringing also realizes during the Sacrament of the Consecrating;
Running over is the slow ringing each bell in turns, from the least to the biggest; after the stroke of the biggest bell, strike all the bells at the same time, and it repeats many times. Running over with other words is called funeral knell, it expresses melancholy and grief about the deceased. But the running over chime always ends with the three-peal - as a symbol of the Christian joyful news about the Resurrection of the dead.
Also there is alarm peal, very fast, that happens during alarm, uneasiness.